ASOS has some more fabulous pieces to offer us this week. And the majority of these are already on their way to me*.
Wanna see?
Top Fashion Trends: Clothes
Oasis Tropical Print Contrast Swimsuit
£38.00
Really cute swimsuit! And the colour contrast looks really flattering. Sizes are 6-18 though, rather than cup sizes, so if you're petite with larger breasts, then this might be a bit tricky. Thankfully, I have hardly anything upstairs – and no, that's not just my brain 😉
---
Warehouse Turn Up Shorts
£29.00
I love these shorts. Actually, I just love this whole combination! Asos jokes "best paired with clear liquids". Too right, I say. I'll stay away from the red wine with these on.
---
Reebok Studio Seamless Legging
£65.00
Slightly expensive for my tastes, but I'm totally into the "active wear" thing at the moment since I've been dragging myself out of bed every morning to go to the gym…why, oh why? These did catch my eye, though. They look smart. And if you're willing to spend a bit on your workout gear, then more power to you!
---
ASOS DESIGN Swing Cami With Double Layer in Stripe
£16.00
This top is really easy-going and cute, and would be a great match for the high-waisted shorts above. I like most things with stripes, so this baby was impossible to skip.
---
Coast Piper Colourblock Maxi Dress
£159.00
What the hell is this thing? Is it a dress or are you meant to dance around it like some kind of maypole? I have no idea, but I love it! We're up at the slightly more expensive end with it being Coast, but it definitely has that wow factor.
---
ASOS Design Denim Button Through Skirt in Midwash Blue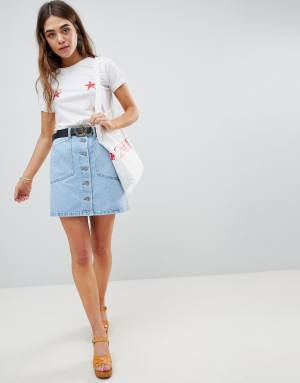 £25.00
I think the denim mini is one of those staple pieces that every girl should have in her wardrobe. It can be paired with most tops, and shoes, and it's just that perfect go-to item when you can't think of anything else. I, unfortunately, have never been able to find one I really like or that I think I look good in. This one looks cute though, so we'll see!
---
ASOS Design Bandeau Jumpsuit With Cut Out And Drape Detail In Print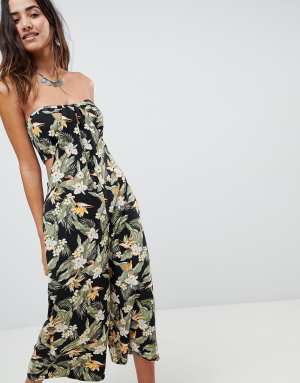 £30.00
Wow, I love this! What a cute jumpsuit! Can be worn on the beach, or even heading off on a night out, paired with some killer wedges. It actually looks super comfy too, and to be completely honest with you, I love being comfy on nights out 🙂
---
Puma Exclusive To ASOS Geometric Printed Leggings
£45.00
I don't know what's with me at the moment, but geometric print is soooo on my radar. I'm actually papering my vlogging room with the stuff. Check out my youtube where you'll soon find me sticking it up!
---
ASOS DESIGN Mix & Match Lace & Dobby Cami Dress
£75.00
I actually have no idea what the "Dobby" means in terms of this dress. Does anyone else know? Please tell me in the comments if you do, coz I'm lost. But she certainly doesn't look house-elf-like, so I'm ruling that out.
---
ASOS DESIGN Bandeau Button Through Skater Mini Dress
£40.00
Ahh! Adorable! And I love the colour. It reminds me of the cupcakes I blogged about the other day. It's made of scuba, which I wouldn't usually go for, but this dress will stay nice and structured past the waist, which is great.
"No snorkel required," advises ASOS; fashion company, part-time jokers.
---
Free People Diana Wrap Dress
£78.00
This is one of my favourite pieces. It's just so understated and would be perfect, paired with a big sunhat and sunglasses. I'd definitely like to wear this when out travelling some beautiful, hot city.
---
Jarlo All Over Lace Bandeau Maxi Dress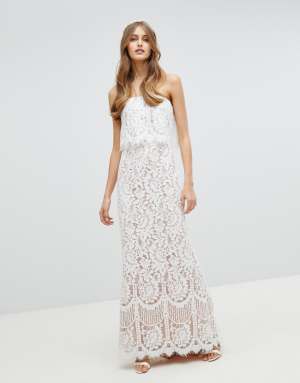 £115.00
I love Jarlo dresses. And I love lace. So this latest dress from them is awesome. It looks a bit like a bridal gown but I reckon you could pull it off. It's beautiful!
---
Daisy Street Pinafore Dress In Check
£23.99
How cool is this dress? I think her haircut helps though! Super straight bangs! But yeah, I really like this. And it's VERY reasonably priced. I'd match with my vans, to go super hipster chic.
---
Top Fashion Trends: Shoes
Glamorous Platform Espadrille Stripe Detail Heeled Sandal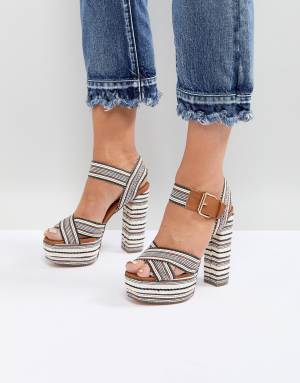 £38.00
Crazy, but cute! Just like me! Haha! But seriously, these would go with the majority of the more 'casual' things I have showcased above – especially that denim skirt! YES!
---
Adidas Originals Deerupt Trainers In Black And Pink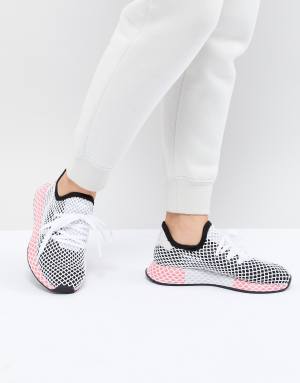 £80.00
I've been meaning to get a new pair of trainers – ones I could wear at the gym preferably, because my Nike free runners are getting a bit tired. But I just saw these and fell in love. The pink detail is awesome. They'd go so well with my black skinny jeans. Can't wait to meet them in the flesh!