Shopping is one of my all-time favourite hobbies. It's a shame that the majority of my hobbies centres around the art of spending money – especially since I often have very little.
Oh well!
Let's see what treasures this week's ASOS search brings!
Clothes
ASOS Petite Off the Shoulder Top with Ruffle Sleeve in Broderie
£25.00
Really cute top, I love this but I don't think I'd be able to pull it off – I'm pretty self-conscious of my shoulders 🙁 But if you can, go for it! It's super cute with Spring (hopefully) on its way. Pair it with crop jeans or shorts like the ones shown!
---
Yas Pleated Midi Skirt
£48.00
I almost glazed over this at first, I don't think the photo really does this skirt justice. Have a mooch at the alternative pics to see for yourself. To be honest, I don't think I'd pair it with this jumper because you'd need to be super skinny to not look frumpy. Instead, a light-coloured camisole top would be nice – and maybe a cardigan and a small blue belt. Just my opinion 😉
---
Pimkie Suedette Biker Jacket
£41.99
I don't usually buy things like this, but my eyes were drawn to this jacket and I actually really like it. It's a bit of a statement piece, and personally, I would have to pick and choose when I'd wear it. But it would certainly look cute with a pair of black jeans and a little black scoop top <3
---
Pull&Bear Stripe Pinafore
£17.99
Really cute, but again I wouldn't pair with a jumper. I'd choose a tight-fitting, long-sleeved top (a light colour), and matching pair of tights. For shoes, I'd pick my Adidas black and white trainers, or – to dress the look up – my pair of heeled brogues.
---
ASOS Design Cotton Mini Skater Skirt with Button Front
£16.00
This outfit is great – maybe not the shoes, I'd pick white vans, but still – I love this top and skirt paired together. I actually did see this top in the list of new things, but I breezed past it. Here, however, it works well.
---
E.L.K Crochet Patchwork Jumper
£26.00
I actually love this! Festival season is coming, and I never know what to wear. I live in the UK, and the weather is notoriously terrible. I HATE being cold and this is perfect for the evening to pull on when the sun goes down….and easy to tie around the waist!
---
Sisley Cold Shoulder Mesh Panel Top
£30.00
How glam! I love the monochrome look, and wide-leg crop trousers really go well with this top. It's glamorous, but not over the top. This is definitely something I'd wear on a night out. Sexy, but not trying too hard, and not slutty <3 A winner!
---
French Connection Halterneck Maxi Dress
£120.00
I think I might be taken by this picture – the way the fabric is swishing – but I just had to include it here. It's bold and clean. Lovely! I have no idea where I would wear this – it's not really something I'd wear on a night out – but maybe you, my lovely readers, would? Something told me not to skip past this FCUK beauty <3
---
Boux Avenue Spring Floral Print Kimono Robe
£48.00
Love this print! And Boux Avenue do a little collection of nightwear which you can find here >> Top, and here >> Bottoms! Sultry, but also cute. I'd need to match it with a big pair of thick socks thought – I get so cold in bed!!!
---
Bronx and Banco Rainbow Tulle Maxi Dress
£420.00
Okay, I know it's expensive, but how could I bypass this??? I want to dress like a unicorn! Who's with me?!
---
ASOS Design Kimono Plunge Midi Dress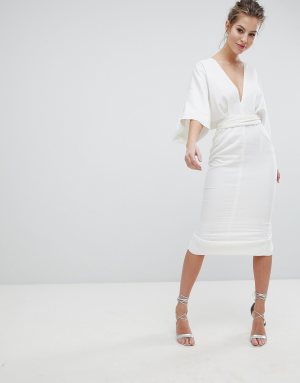 £45.00
This is awesome! I love the style and length, and it looks elegant, but also comfy (as a girl who has to wear a lot of dresses, comfort definitely has to become part of the deal). I'd wear a little cami top as I don't like plunges much, but otherwise it's a fab dress!
---
ASOS Design Classic Mac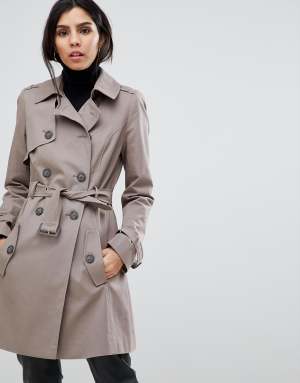 £55.00
I have the navy blue version of this coat, which I love, and which I bought 4 years ago. ASOS are still making these coats! Why? Because they're awesome, sexy, and go with everything! They keep bringing them out in fab new colours. I wish I could justify having one of each…
---
ASOS Lace Pinny Scallop Edge Midi Prom Dress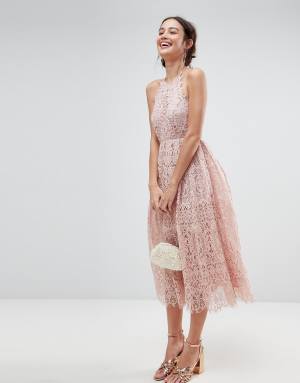 £75.00
I'm a sucker for anything pretty, lacy and modest, but still alluring. This dress fits all of that criteria, and is less than £100.00! I'd probably go for some block platform shoes instead of strappy, but I think this is a fab option for weddings, proms, conventions, and parties. Thumbs up!
---
Shoes
ASOS Design Juiciest Espadrille Wedges
£25.00
So cute! And I love closed-toe shoes, especially espadrilles. I have a pair of navy ones like this, but these are a fabulous find. Light coloured, perfect for Spring. Pair with skirt, shorts or jeans. They'll go with everything 🙂
---
Fred Perry Aubrey Plimsoll Trainers
£50.00
I'm always on the search for versatile shoes. And white plimsolls are one of the best for that quality. I like these Fred Perry ones, because they're simple, and would look good with any outfit – even those Spring/Summer dresses we're all hoping to drag out of the cupboard soon (when the weather clears up, that is!!!).